INGREDIENTS
1/2 small jar capers
1/2 cup packed chopped fresh cilantro (1/2 bunch)
2 tablespoons extra-virgin olive oil, divided
1/2 tablespoon water
1 bunch green onions, divided
2 (4-ounce) boneless center-cut loin pork chops
3/16 teaspoon salt, divided
1/8 teaspoon freshly ground black pepper
8 heirloom cherry tomatoes (red and yellow), halved
INSTRUCTIONS
Spoon 1/2 tablespoon caper brine and 1 tablespoon drained capers into the bowl of a mini food processor. Add cilantro, 1 1/2 tablespoons oil, and 1/2 tablespoon water. Chop green onions to measure 1 1/2 tablespoons. Add 1 1/2 tablespoons green onions to cilantro mixture; process until smooth.
Cut remaining onions diagonally into 2-inch pieces. Cut 8 pieces lengthwise into slivers; set aside.
Heat a skillet over medium-high heat. Sprinkle pork with 1/8 teaspoon salt and pepper. Add remaining 1/2 tablespoon oil to pan; swirl to coat. Add pork and 2-inch onion pieces; cover and cook 4 minutes. Turn pork over. Add tomatoes; cook 2 minutes. Sprinkle with the remaining dash of salt. Arrange pork mixture on a platter. Drizzle with sauce; sprinkle with slivered onions.
RECIPE TIPS
The sauce can be made a day ahead and magically transforms the simplest food into something spectacular. Try it on chicken or steak, too, or as a spread in a sandwich.
Makes 2 servings
316 calories
CARBOHYDRATE 

7.0 g

CHOLESTEROL 

62.0 mg

FIBER 

2.0 g

PROTEIN 

24.0 g

SODIUM 

436.0 mg

FAT 

21.6 g

SATURATED FAT 

4.8 g

MONOUNSATURATED FAT 

13.4 g

POLYUNSATURATED FAT 

2.2 g

CALCIUM 

67.0 mg

IRON 

2.0 mg

SUGARS 

1.0 g

EST ADDED SUGARS 

0.0g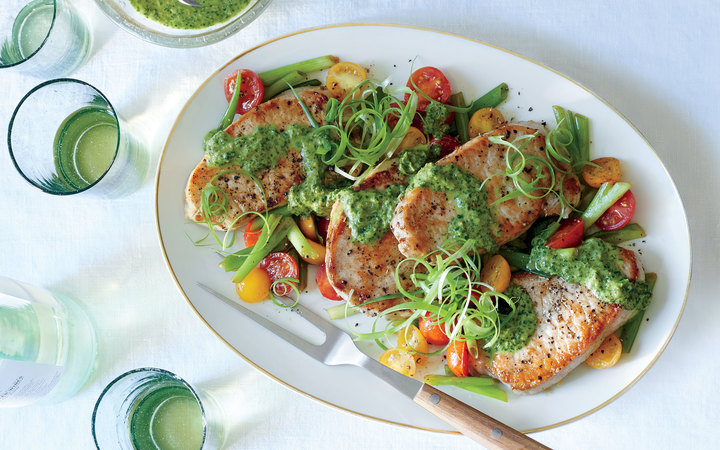 Pork Medallions with Scallions and Magic Green Sauce