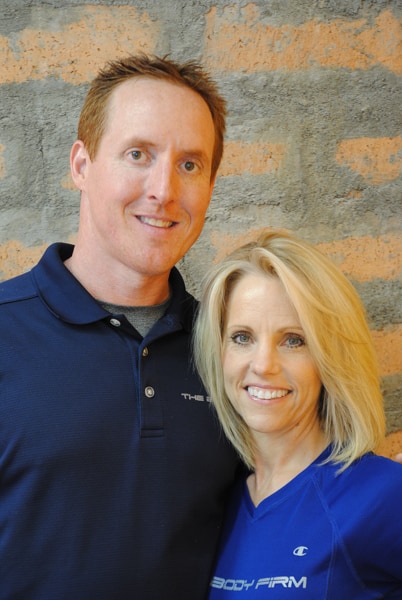 DOUG AND TORI THOMPSON – OWNERS
Collectively The Thompson's have over 40 years of experience in the fitness industry. They are very passionate about functional, corrective exercise in a professional, non-intimidating atmosphere. Along with their outsatanding team of certified personal trainers, the Thompson's seek to educate and motivate each client to reach their individual fitness best.
EVERY DAY IS AN OPPORTUNITY
WE LIVE TO HELP TRAIN YOU
The Body Firm personal training studio opened in August 2007 and has become one of Phoenix's most respected fitness facilities. The Body Firm offers result driven personal training sessions and nutritional counseling at an affordable rate. Whether you're looking to shed body fat, add lean muscle, rehabilitate after an injury or improve athletic performance, we have a program designed specifically for you.
The Body Firm is different than the traditional membership gym. You'll love walking in to a clean, private facility with exercise professionals dedicated to delivering a specialized training program based on your goals, restrictions (injuries), ability and level of fitness.
WHAT WE OFFER
PERSONAL TRAINING MEMBERSHIPS

PERSONAL TRAINING PACKAGES

NEW CLIENT INTRODUCTORY TRIALS
WHY THE BODY FIRM SHOULD BE YOUR GYM
WHAT SETS US APART
Our fitness studio offers state-of-the-art exercise equipment with highly educated, experienced instructors who will teach and motivate for maximum results. Each instructor goes through a rigorous hiring process, must have a minimum 2 years experience in an exercise related field, and hold at least one certification from a nationally accredited association. Once hired, our instructors are required to complete an extensive in-house training program.
WHY IT WORKS
Our clients who have achieved the greatest success tell us it's due to consistently having a set appointment with a trainer prepped and waiting to put them through a safe, challenging workout they most likely wouldn't do on their own. Take your first step by contacting us today for your free fitness consultation. We look forward to meeting with you!
WEIGHT LOSS CHALLENGE
Take the challenge! Drop up to 10% or more of your body weight in THE BODY FIRM'S ULTIMATE 6 WEEK WEIGHT LOSS CHALLENGE! Lose the weight and win the jackpot!
NUTRITION
Whether your goal is weight loss or weight gain, depending on your dietary needs and any doctor-recommended guidelines, The Body Firm has a nutrition plan to perfectly compliment your exercise program.
Achieve Your Fitness Goals
Flexible membership packages to suit all levels of athletes and achieve your fitness goals